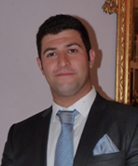 Co-Founder & Executive Director
Iraq Heritage
Aymen is the Co- Founder and Executive Director of Iraq Heritage and Founder and Director of Hamond Projects, which is a leading edge Cost management, Project Management and Development Consultancy business which specialises in delivering client focused, and high value project support to a diverse range of Clients both nationally and internationally in both the public and private sector.

He has extensive knowledge of development requirements relating to the residential, automotive and industrial sectors of the market. Aymen has a specialist interest in heritage and has given specialist consultancy with regards to planning, conservation and restoration. Aymen has acted as a client liaison officer for a number of large overseas investors and has lead successful bids for a number of large development sites placed on the market by public sector land owners. He has also given specialist consultancy services to a number of clients in relation to disputes over dilapidations and contractual claims.

His previous experience is with Bowcliffe Chartered Surveyors involved Project Management, Value Engineering and Risk Value Management exercises. Academically, Aymen earned his Honours Degree in Quantity Surveying from the University of Salford (UK).