Al Kathimayn Shrine, Baghdad
Anyone approaching Baghdad from the north or the west will be impressed by the sight of the four golden minarets at Kadhmayn, the Shrine of the Two Imams, Imam Musa Al-Kadhim and Imam Muhammad Al-Jawad, peace be upon them. They are respectively the Seventh and the Ninth of the Twelve Imams.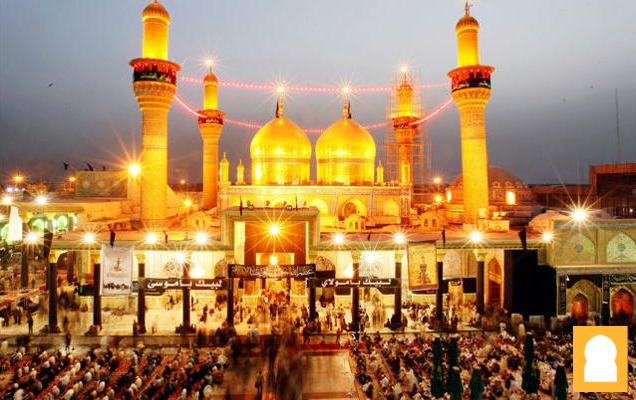 Al-Kadhimiya is said to be the oldest towns in Iraq. Prior to the construction of Baghdad, Al-Kadhimiya was known as Shoneezi, an Arab name meaning the Black Grain. When the Abbasid Caliph Abu Ja'far Al-Mansour started the construction of the Round City of Baghdad in 762 AD (145 AH). This areas was made into a cemetary for the family of his family and was called Qureish cemetery.whithin this cemetary was burried the holly Imam Musa bin Ja'far also known as Al–Kadhim who died in 799 AD (183 AH) Afterwards, his grandson, Imam Mohammad Al-Jawad who died in 834 AD (219 AH) was buried there.
The present building dates back only to the beginning of the sixteenth century and has been kept in excellent repair. This building represents the restoration of Shah lsmail I (1502 - 24), though when the Turkish Sultan, Suleman the Great, captured Baghdad and remained there for four months in 1534, he visited this sacred place, and is said to have contributed to the further ornamentation of the Shrine at Kadhmayn.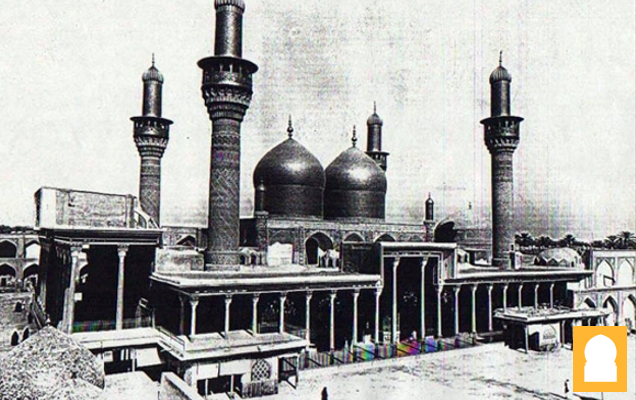 The mosque is a world famous shrine and said to be one of the most important mosques in the Islamic world. The structure is of exceptional architectural design with a huge gilded dome on a circular drum, there are four minarets coated in gold rising above its court yard (ewan) and Kufic inscriptions are seen all around the mosque. Also buried within this mosque are the two famous historical scholars, Shaykh al Mufid and Shaykh Nasir al-Din Al-Tusi. In addition directly adjacent to the shrine are two smaller shrines belonging to two brothers, one belongs to Sayed al Razi who complied Nahjul Balagha. The other belongs to Sayed al Murtatha (Alam al Huda) who was one of the greatest scholars of that time.
Written by Aymen Jawad