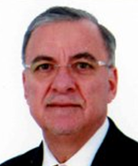 Akram Ogaily manages Hill's TCT Group; a 14 senior member team specialized in all fields of projects studies planning, management and engineering, that support global projects on technical, project start-up and compliance related issues. He has more than 35 years of experience in urban planning, architectural and engineering, design and management of complex mega projects for both public and private sectors throughout the Middle East, North Africa and the UK. Projects have included master planning and design of major mixed use developments consisting of state, ministries, educational and health service for public sectors and hotels, resorts, institutional, cultural, residential and historical, building conservation as well as sustainable building designs.

In 1970 to 2003, Mr. Al Ogaily co-founded Archicenter in Iraq, Kuwait, Lebanon and the United Kingdom. He established the design principles and standards of thought which led the firm to succeed in a considerable number of international and local architectural competitions, design and realizations. He restructured the practice during the 1990s to focus on project design and management in response to the progressive needs of the building construction environment and technology.

Mr. Al Ogaily has been involved with the design and management of major prestigious projects located in the United Arab Emirates, Algeria, Lebanon, Pakistan, Yemen, Kuwait, Iraq, and United Kingdom.

Mr. Ogaily Joined Hill International on February 2003 to lead the design management team of ADNOC projects in Abu Dhabi. He was assigned to undertake the program manager role of the Kuwait Mega Projects of its Islands Resorts development in 2004 and the Lagoon development- Dubai as the Vice President and Project Director in 2005. Since January 2007 he is acting as Technical Core Team (TCT) Director providing technical support to the International Project Management Group in the Middle East, North Africa, Eastern Europe and the Far East. In July 2008, Mr. Ogaily was promoted to Senior Vice President.

Mr Ogaily earned his Msc Arch - CEM Barttlet School of Architecture University College London-UK and his B.Sc. Arch from the University of Baghdad.